CCJP Action and Advocacy
As well as promoting news and information and supporting other groups & organisations campaigns, CCJP has initiated many of its own actions and advocacy.
Click here to visit our Petitions Page and see all Current Petitions and click here to see our letter writing page.
---
Urgent Action for Men on Manus
The Manus Island agreement is a failure. Turnbull and Shorten need to accept it.
CCJP are asked to swell the numbers giving the following messages to our leaders:
Telephone calls re Refugee Resettlement
Malcolm Turnbull: 026277 7700
Bill Shorten: 026277 4022
"Australia has denied the refugees and asylum seekers on Manus the most basic of human rights - water, food, shelter and safety. It is callous and inhumane and I for one cannot stay silent in the face of such abuse. I want Mr Turnbull and Mr Shorten to join in a bipartisan agreement to bring the officially recognised refugees on Manus to the Australian mainland as a one-off resettlement process."
Other messages -
Phone the PMs Office at (02) 62777700 and ask for safe resettlement in New Zealand and/or Australia for the Men on Manus
Phone Tanya Plibersek about Labor's lack of opposition on (02) 93790700
Send emails
Just put #Bring Them Here and #Manus
---
CCJP endorses AFTINET'S Letter campaign to the Minsiter for Trade and Investment re: concerns over the TPP
Click here for more information
---
CCJP Submission on the ammendents to the Racial Discrimination Act
Catholics in Coalition for Justice and Peace is a coalition of individuals and groups working for the emergence of just social structures in Australia and overseas. We are strongly opposed to changes to the Racial Discrimination Act proposed by Senator Brandis. Psychologists and others who have knowledge and expertise in this area have warned that any changes could damage the mental health and well-being of people from different cultural backgrounds by legitimizing racism. What becomes permitted by law can easily slide into unacceptable racist behavior. The right to free speech must be balanced with the obligation to protect the vulnerable from racial and ethnic prejudice and discrimination.
It is beyond our comprehension to understand why Senator Brandis wishes potentially to bring about a climate of fear and intimidation in our society where much has been done to create a peaceful and harmonious multicultural environment.
CCJP joins the many groups and individuals who are voicing their concerns about the changes Senator Brandis proposes. We do not want them. We do not need them.
Anne Lane
Convenor, Catholics in Coalition for Justice and Peace
---
The You Don't Speak for Me and the You Still Don't Speak for Me ! Ran during the 2013 election and during the first 100 days of new governemnt. Its aim was to support the fair treatment and rights of asylum seekers by asking people to send a ballot-type paper outlining what they do not support to their local MPs. See sample paper below: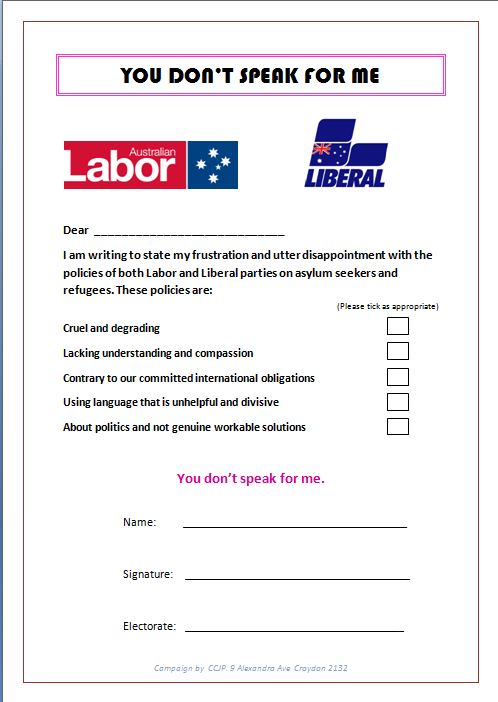 Support the rights of asylum seekers and refugees and let your politicians know 'You don't speak for me' !
The election may be over but the desperate situations faced by asylum seekers and refugees continue. CCJP asks you to download the 'You don't speak for me' statement and send it to your local MPs during the first 100 days of new Government.
Read 'Australia doen't receive many refugees' infographic from Get Up! - 'Australia doesn't receive many refugees'
---
Check Outs
Read CCJP's Advocacy Newsletters (called Check Outs) which have covered topics on Poverty, Indigenous issues, Asylum Seeker issues, Climate Change, International Development and many others by clicking here
Media Releases & Publications
Please click to read CCJP media releases & other publications
Click here to read CCJP media release condemning PM Rudd's PNG asylum seeker policy.
---
Sunday Seminars
Attend CCJP's Sunday Seminars or read summaries & transcripts from these important addresses by clicking here
---
CCJP Awards
CCJP recognises individuals or organisations who has given outstanding service and commitment to social justice. CCJP presents them with an award. Click to read more
---
Asylum Seeker Advocacy
Aug 2013: CCJP Federal Election Check Out - Asylum Seeker Issue
Jul 2013: Media Release - CCJP condenms Labor asylum seeker policy
May 2013: Read CCJP Letters to Brendan O'Connor MP, Minister for Immigration & Citizenship, Jason Clare MP, Minister for Home Affairs & Justice and Scott Morrison MP, Shadow Minister Immigration & Citizenship requesting an independent review of current off-shore detention facilities & an end to off-shore processing centres.
Apr 2013: Sunday Seminar - The Politics of Skilled / Labour Migration. Dr. Chris Wright highlights the intersections between politics and skilled immigration, family immigration & asylum seeker policy. Read a summary here or the full transcript here.
Oct 2012: Media Release - Nauru and Manus Island will fail, says Catholic group
Sept 2012: Sunday Seminar - Refugees: Appealing to our better angels by John Menadue AO. Read a transcript of his address here.
Aug 2012: On 24 August 2012, CCJP wrote to PM Julia Gillard, expressing our deep concerns over the return to off-shore processing, and urging her to ensure all 22 recommendations of the Expert Panel will be implemented as soon as possible... Read the CCJP Letter here
Jul 2012: Many submissions by legal, human rights and social justice organisations were made to the 'Expert Panel on Asylum Seekers', including a submission by CCJP.
May 2010: CCJP Check Ourt - Asylum Seekers - the issues
---
No to Single Parents Welfare Cuts Advocacy
May 2013: Continue the Say No to Single Parent Welfare Cut campaign by inviting friends to write a letter to the Prime Minister and Treasurer.
Apr 2013: Read an edited transcript of Samantha Seymour's (Single Parent's Action Group) Sunday Seminar Presentation
April 2013: Tell the Government not to cut welfare to single parents - Approximately 100,000 sole parents could lose some or all of their income support. Catholics in Coalition for Justice and Peace strongly oppose these welfare cuts affecting one of the most vulnerable groups in our society. CCJP ran a letter writing campaign asking members and supporters to write a letter to PM Julia Gillard and Treasurer Wayne Swan, asking them to reverse this decision in the upcoming Budget. See Sample of Letter sent to PM & Treasurer.
Apr 2013: Read CCJP Petition & CCJP Memeber's comments by clicking so in our Petition Comments page.
Mar 2013: Media Release - Federal Government Cuts to Welfare for Single Parents
---
Action on International Aid
Take Action:
CCJP has written a letter to Foreign Minister Bob Carr, asking him not to proceed with the reported decision. You can read our letter here. Please write to the Minister yourself, using as much of our letter as you wish. The Minister's email address is: foreignminister.carr@dfat.gov.au
---