Sunday Seminars
CCJP holds Sunday Seminars through the year in Sydney. All are very welcome to attend.
Ms Cathy McGowan AO
Former Independent Member of Parliament 2013 - 2019
Cathy will address the question:
Is the increasing election of Independent candidates - a positive or negative for Parliamentary democracy?
This will be an online zoom session
Date: Wednesday March 23rd
Time: 4pm -5.30pm
RSVP: ccjp@bigpond.com
OR
Phone: (02) 9745 0820
---
February 2021 will have Professor Lesley Hughes speaking on the current situation of climate change and the state of our wildlife.
Uluru Statement from the Heart - Constitutional change, treaty, makarrata
Dean Parkin, from the Quandamooka People of Minjerribah, was a facilitator for 12 regional dialogues and the Uluru Constitutional Convention. He's an investment analyst with Tanarra Capital and an advocate for the Uluru Statement from the Heart, which he helped compose.
Download a transcript of Dean's talk and the following Q&A session, click HERE
---
November 17, 2019 - Professor Jamie Pittock from ANU
WATER! Our Precious Resource. What is its future?
Jamie Pittock is Professor at the Fenner School of Environment & Society at The Australian National University. He is Director of International Programs for the UNESCO Chair in Water Economics and Transboundary Water Governance. His current work includes developing research programs that link Australian and southern African expertise to improve management of river basins, green water and agriculture.
In the Australian media, he is often called upon to comment on the Murray Darling Basin and tributories that are currently in crisis in terms of supporting agriculture, biodiversity and a healthy eco-system.
Download the Presentation from Prof. Jamie Pittock by clicking HERE
---
August 18, 2019 - Professor Martin Green AM ForMemRS, Scientia Professor at UNSW
"How solar enery would create great employment opportunities and also greatly benefit the Australian economy"
Prof Martin Green works on solar energy and is Director of the Australian Centre for Advanced Photovoltaics, involving several other Australian Universities and research groups.
His group's contributions to photovoltaics are well known and include holding the record for silicon solar cell efficiency for 30 of the last 34 years, described as one of the "Top Ten" Milestones in the history of solar energy generation.
---
June 16, 2019 - Dr Simon Longstaff AO of The Ethics Centre: "Is Australia still an ethical country?"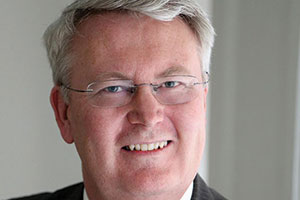 Dr Simon Longstaff AO, Executive Director of The Ethics Centre, Sydney gave an inspiring and engaging reflection on Sunday 16 June 2019
---
February 17, 2019 - Uluru Statement from the Heart, Treaty, Constitutional Recognition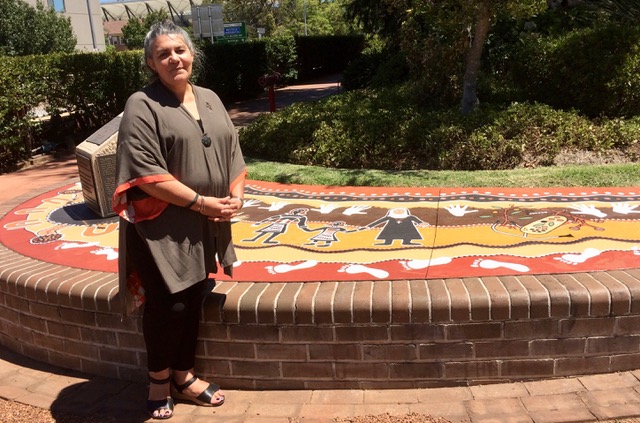 We started the Sunday Seminar and AGM on 17 February 2019 outside the Mercy Centre in Parramatta (Jennifer Newman, ABOVE) at the mural acknowledging the Traditional Owners of the land, the Burramattagal people. At this place we acknowledged over 60,200 years of history, culture, land, agriculture, friendship, religion, education, violence and dispossession - by gathering and reading aloud the text of the 2017 Uluru Statement of the Heart.
Read about Jennifer's seminar HERE
Download Jennifer's presentation with key quotes and highlights HERE
---
October 21, 2018 - Youth Leaders discuss Climate Change
The Sunday Seminar featured a panel of young student leaders from environment groups at Catherine McAuley Westmead, Our Lady of Mercy College (OLMC) Parramatta and Domremy College Five Dock who discussed their thoughts and attitudes to climate change, and the environmental sustainability projects and actions they are taking in response.
The informative powerpoint presentation by the Catherine McAuley Westmead students is available to DOWNLOAD HERE.
The notes accompanying the Catherine McAuley students' slide presentation are available to DOWNLOAD HERE.
Review the presentation, reflect and learn. Be inspired!
---
July 15, 2018 - Destitution for Asylum Seekers as National Policy & Community Alternatives
Thank you Paul Power, CEO of Refugee Council of Australia (RCOA), an umbrella body of 150 agencies that work with refugees and people seeking asylum, for presenting at our seminar and giving us positive actions to undertake in the #DignityNotDestitution campaign.
Chief Executive of RCOA since 2006, Paul leads the organisation's policy development and public education on refugee issues and its advocacy with the Australian government, international networks and the Office of the United Nations High Commissioner for Refugees.
The Refugee Council of Australia is coordinating a nation-wide campaign (Roof over my Head) to pressure the Federal Government to restore the financial support scheme for every person seeking asylum, and ensure they are treated humanely.
DOWNLOAD A FLYER HERE
---
AGM on Sunday 25 March 2018
A DIFFERENT AUSTRALIAN HISTORY:
Aboriginal agriculture, irrigation, architecture - maintaining a culture over millenia
Featuring:

Bruce Pascoe, winner of 2016 NSW Premier's Literary Award
Bruce Pascoe is an Australian Indigenous writer, from the Bunurong clan, of the Kulin nation. His most recent work 'Dark Emu', winner of the 2016 NSW Premier's Literary Award, presents a radically different picture of Australia's original inhabitants. From the journals and records of early explorers and surveyors, Bruce has accumulated astonishing descriptions of a pre-colonial Aboriginal life and asks whether Australia's First Peoples were 'hunter-gatherers'.
---
October 15, 2017:

Compassion over cruelty - responding to people seeking safety and protection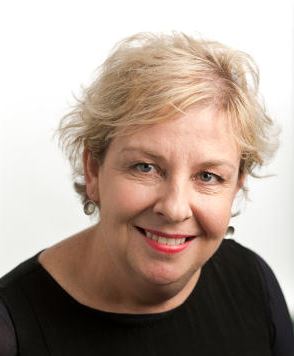 Ms Frances Rush, CEO of the Asylum Seekers Centre in Sydney has been associated with the Centre since its inception in 1993. Nobody could have envisaged the journey ahead.
The Asylum Seekers Centre is a place of hospitality and welcome. It is an oasis for many people, a safe place for those who have fled situations of great danger.
"You did ask me if there is anything else that we can do. I think the thing that we have to do is to keep our voices loud. Keep connected and keep up the pressure politically ... we have to push back when decisions are made and show that Australian society does care."
Edited transcript of Ms Rush's address and Q&A session available HERE
---
July 16, 2017: OUR CLIMATE FUTURE
Key Concerns & Signs of Hope
Speaker: Professor Tim Flannery AO, Australia's Chief Climate Councillor
Professor Tim Flannery was a compelling speaker on the latest climate science data that underpins the current state of the global carbon budget. He also provided exciting information on the development of carbon negative technologies and their role in reducing greenhouse gas emissions to halt and reduce the impacts of human-influenced global warming.
Download an edited transcript of Professor Flannery's address and the audience Q&A that followed HERE
---
May 21 2017: Real News or Fake News - The Future of Journalism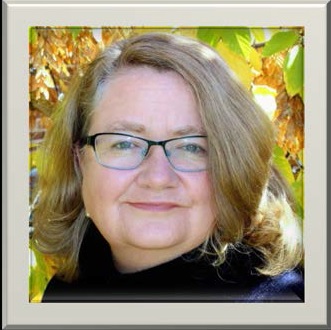 Dr Margaret Van Heekeren from University of Sydney's Department of Media and Communication was our speaker on the phenomena of fake news. Dr Van Heekeren shared her current research showing that fake news, also known as faked news and false news, can be traced to ancient times.
The recent rise in the proliferation of fake news has identified social media as an enabling factor. However Dr Van Heekeren takes the view that this is, rather, a continuation of historic misuse of news channels. She argues that whilst fake news is of critical concern, it is not a death knell of journalism's future but a cyclical warning of a need to reinvigorate quality journalism.
Download an edited transcript of Dr Van Heekeren's address here
---
Feb 19 2017: AGM & Constitutional Recognition

Linda Burney MP was the speaker for our 2017 AGM and Sunday Seminar. Ms. Burney spoke on the proposed changes to the Constitution and the recent Centrelink issues.
We are grateful for Linda's willingness to speak at our Seminar and share her experience and time with us.
Download an edited transcript of Ms. Burney's address
---
Nov 10 2016: ACU Strathfield, Sydney - Bringing Laudato Si to Life

An update on Bringing Laudato Si to Life by Fr Sean McDonagh, a Columban Priest - a marvellous writer, film-maker and lecturer on environmental issues and the consequences for the poor, the island nations and the world.
Please find links below to podcasts and powerpoints from Fr Sean as presented at the various Sydney events he addressed between Nov 10th and Nov 12th 2016.
Powerpoint: via this link: http://www.filedropper.com/2016frseanmcdonaghslaudatosipresentation
Podcast: via this link: http://www.xt3.com/library/view.php?id=3158&categoryId=24&episodeId=2587
---
Aug 21 2016: How inequality corrodes democracy and what we can do about it
Speaker: Professor Carmen Lawrence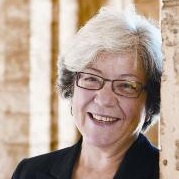 After training as a research psychologist at the University of Western Australia and lecturing in several Australian universities, Dr Lawrence entered politics in 1986, serving at both State and Federal levels for 21 years, becoming the first woman Premier and Treasurer of a State government.
In 1994, she was elected as the Member for Fremantle and was appointed Minister for Health and Human Services and Minister assisting the Prime Minister on the Status of Women. She has held various portfolios in Opposition, and was elected national President of the Labor Party in 2004. She retired from politics in 2007. She is now a Professorial Fellow at the University of Western Australia working to establish a centre to research the forces driving significant social change.
Downloadable event flyer
---
May 15 2016: Housing and homelessness
Guest speaker: Adam Farrar, Senior Policy Officer, Shelter NSW
Adam Farrar is a Senior Policy Officer with Shelter NSW, the State's peak advocate for housing justice. In May 2016, Adam spoke passionately on Housing and Homelessness at our Sunday Seminar. His address uncovered and explained the multiple layers of consideration that surround the housing market and its impact on the poor
This Sunday Seminar also included time to workshop election strategies, sharing ideas for taking action on social justice issues in the lead-up to the election on July 2nd.
Download an edited transcript of Adam's address
---
Feb 21 2016: AGM and Seminar: "Domestic Violence – There's never an excuse"
Following our Annual General Meeting, Inga Lie, Trainer and Counsellor from the Rape and Domestic Violence Services Australia, gave a talk about this important topic. The event was also a fundraiser for RDVSA.
Downloadable event flyer
---
Go to: 2015-2014 Seminars 2013-2012 Semianrs Transcipts & Summaries