Blog Post
Medical transfers from offshore processing to Australia
Posted 9 Mar 2019 10:00AM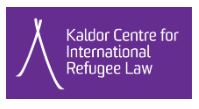 Download factsheet: The Medevac law: Medical transfers from offshore processing to Australia
Australia's parliament passed a new law in controversial circumstances, providing for the transfer of asylum seekers from offshore processing to Australia for medical treatment.
What is the so-called medevac legislation and what does it do?
The medevac legislation passed by Australia's parliament became law on 1 March 2019. It enables asylum seekers and refugees held under Australia's offshore processing arrangements to be transferred to Australia for medical treatment or assessment if two doctors say they need it, unless the Minister refuses on character and/or national security grounds. The decision-making process (outlined below) will be activated by two doctors' diagnosis rather than by public servants' decisions.
The Morrison government, which voted against the legislation, already has moved to re-open detention facilities on Australia's remote Christmas Island; any refugee or asylum seeker who receives access to medical services under the new process will be sent there, as a matter of government policy (page 126). In November 2018 the Australian Human Rights Commission said that 'due to its remoteness, the nature of its security infrastructure, and the limited access to facilities and services on Christmas Island, [it] is  not an appropriate facility for immigration detention, particularly for people who are vulnerable or have been detained for prolonged periods of time.' The Island's CEO has since reiterated that.