Blog Post
Young people discuss climate change
Posted 4 Nov 2018 06:00PM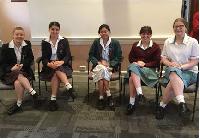 Photo: The panel of Domremy College, OLMC Parramatta and Catherine McAuley students responding to questions from the audience at the 21 October seminar.
The CCJP seminar on Sunday 21 October featured students from Catherine McAuley Westmead, Domremy College and Our Lady of Mercy College (OLMC) Parramatta speaking about their projects for environmental sustainability. The students were articulate, knowledgeable and passionate about their efforts to address the effects of climate change.
There was a wonderful exchange between our members and these young people. After their individual school presentations they formed a panel to answer questions from the audience, giving considered, honest and intelligent responses.
We asked them then to question us, the "seasoned'' activists , and a great exchange took place , highlighting on one side enthusiasm and passion and on the other, wisdom and encouragement. They gave us a sense of hope for the future if young people like them can take up the challenges facing our beautiful earth.
The full presentation from the Catherine McAuley students, Paige and Jane, can be read on the Sunday Seminar section of our website. CLICK HERE
Domremy Student Reflection
Arriving at Our Lady of Mercy College Parramatta, we had no idea what to expect, except that we were going to discuss ways in which Domremy promotes environmental sustainability. We were asked to give a brief presentation in front of the group about all the things Domremy is doing as well as our perspectives on Climate Change. This was met with big smiles of encouragement.
We then listened to students from Our Lady of Mercy College and Catherine McAuley College present ways in which their respective schools promote environmental projects. This was insightful and allowed us to gather new ideas about initiatives possible at Domremy, as well as see some of the similar projects other schools have undertaken.
Once the presentations had concluded all students were asked to sit on a panel and answer questions from members of CCJP about our attitudes towards climate change and hopes for the future. The atmosphere in the room was one of camaraderie and you got the sense that they were genuinely interested in hearing from the future generations.
Overall it was a great event allowing us to gain an understanding of the CCJP's mission and express our thoughts about this pressing issue facing our world. The members' warmth and hospitality did not go unnoticed and allowed for connections to be made for the future.
Madalynne, 2019 Environment Prefect