Blog Post
Climate Warrior from Kiribati to speak in Melbourne and Sydney
Posted 22 Sep 2018 06:00PM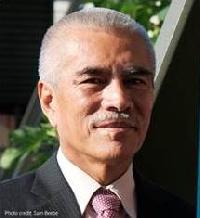 In October 2018, the Edmund Rice Centre's Pacific Calling Partnership is bringing one of the world's foremost voices for climate justice to Australia. Anote Tong, climate warrior and former President of Kiribati will be meeting with politicians, talking to the media, conducting workshops and giving public talks in Melbourne and Sydney.
In these stimulating talks, Anote Tong will describe vividly the challenges facing Kiribati, Australia's responsibility to tackle the climate crisis, and his vision for a more just and sustainable future. He is renowned for his role in building awareness of the impacts of climate change in the Pacific, the leadership of front-line communities, and the urgent need for stronger action from the international community, notably Australia.
Anote Tong has played a critical role in the United Nations conferences on climate change, especially at COP 21 in Paris.
The schedule of the talks are as follow, all details on OTHER EVENTS page - click HERE:
Monday, October 15, 2018, 6:15 PM - 8:30 PM ACMI, Federation Square, Flinders Street, Melbourne
Monday 22 October, 6.00pm - 7.30pm Basement Theatre, Melbourne School of Design Masson Road, Parkville, VIC
Wednesday 24 October, 6-7.30pm Charles Perkins Centre Auditorium, John Hopkins Drive, University of Sydney
Thursday 25 October 2018, 5:30 pm – 7:30 pm Function Room of the Good Samaritan Congregational Centre, 2 Avenue Road Glebe, NSW
For all event descriptions and ticketing information, go to our OTHER EVENTS page HERE.