Blog Post
Radical Sydney walking tours
Posted 12 May 2018 12:00PM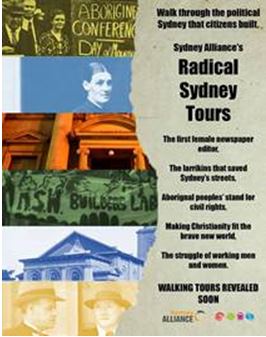 Spread the word! Join a two-hour tour of Radical Sydney's past - raising funds for organising Sydney's future!
Secret stories of civil society organising all over the city: Carving our political space for women, the sparks of the Indigenous civil rights movement, the fight to save Sydney from demolition and more!
More information and booking here:
http://bit.ly/RadicalSydneyTours

The booking platform is through Airbnb's Not-for-Profit experiences.
All funds come directly to Sydney Alliance and support the organising work.
Great opportunity to show friends visiting Sydney a unique story!
Depending on the results of the trial for May and June 2018, these tours may become a permanent fixture.