Blog Post
Twelve ways at Christmas - challenge to go waste free
Posted 1 Dec 2017 03:00PM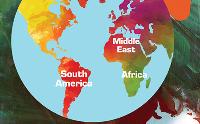 Australian Catholics Summer 2017/18/The Twelve Days of Christmas Creation Challenge
Jaqui Remond | 01 November 2017
Ho ho ho! It's Christmas time again. This Advent season we can respond to the papal encyclical Laudato Si' to live simply, change our lifestyle and be part of a cultural revolution to look after God's Creation. Imagine celebrating Christmas in a way that deeply honours the gift of Creation? What if living out our Christian faith in 2017 calls for us to experience Advent and Christmas differently? Could we, for example, practice living waste free throughout the silly season?
God's plan is not about making creation (which includes humanity) into a set of objects to be used and discarded. So what does it mean to experience the season of Advent in a way that truly honours being in loving relationship with our Creator, one another and all creation?
1. Christmas Tree
A living tree in a pot that grows each year is a waste free choice for a Christmas tree for many years. Before it gets too large to move, plant it somewhere thoughtful and visit it when you can to water it and enjoy its shade and all of the life that the tree sustains. Choose a species appropriate for the place, such as a native Wollemi pine or cypress. Planting endemic species connects corridors of life.
2. Christmas Decorations
Reusing decorations from previous years is a great waste-free option. New decorations can be made from all sorts of bits and pieces that might be put in the rubbish, possibly to landfill. Google 'get creative Christmas decorations' or 'Fairtrade Christmas decorations' to see how you can get creative and help others while you celebrate the season.
3. Solar Lights
Placing solar lights on the exterior of your house, such as decks and balconies, school grounds, and your Christmas tree is a sure winner rather than burning fossil fuels that costs the earth, yourself and our neighbours. A clean energy festive glow is the way to light up Christmas responsibly.
For all 12 waste-free ideas in the challenge, click HERE