Blog Post
View the film Guarding the Galilee - stop Adani myths
Posted 14 May 2017 12:00PM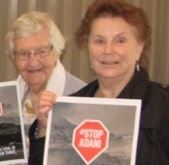 On Saturday 6 May 2017 at the Sisters of Mercy Parramatta, our Stop Adani group met to view the film Guarding the Galilee. The information presented in the film informed and disturbed us. It was sobering but enlightening too to understand what myths are being perpetrated about the so-called benefits this mine is supposed to produce.
I highly recommend it if you can get a copy from Stop Adani.com. That our politicians should even countenance such short and long-term destruction the mine will cause, not just to Queensland but for the planet, beggars belief. The group committed to write to various Senators, Ministers and members to register our opposition.
As well we agreed to sign the petition on the Wangan Jagalingou website to show our support for the local indigenous people opposing the mine on their native title land.
One of our group, Helen, represented us at the Monday protest outside Westpac and the Commonwealth banks.
Other members agreed to register with StopAdani so as to show the film to other groups to which they belong. Thanks to Marie for the photo.
M M Hinchey