Blog Post
How can Economic and Political Systems Operate to Support the Ecology of the Planet?
Posted 31 Aug 2022 04:00PM
Updated on 31 Aug 2022 05:13PM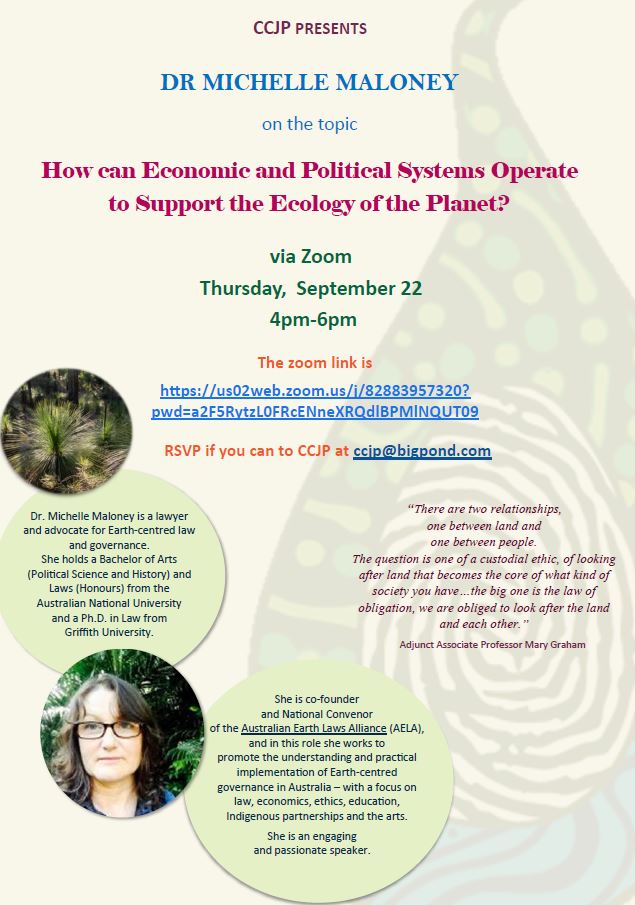 Click on the Poster to enlarge
Dr. Michelle Maloney is a lawyer and advocate for Earth-centred law and governance. She holds a Bachelor of Arts (Political Science and History) and Laws (Honours) from the Australian National University and a Ph.D. in Law from Griffith University.
She is co-founder and National Convenor of the Australian Earth Laws Alliance (AELA), and in this role she works to promote the understanding and practical implementation of Earth-centred governance in Australia – with a focus on law, economics, ethics, education, Indigenous partnerships and the arts.
She is an engaging and passionate speaker.
"There are two relationships, one between land and one between people. The question is one of a custodial ethic, of looking after land that becomes the core of what kind of society you have…the big one is the law of obligation, we are obliged to look after the land and each other."
Adjunct Associate Professor Mary Graham via Zoom
Thursday, September 22
4pm-6pm
The zoom link is:
https://us02web.zoom.us/j/82883957320?pwd=a2F5RytzL0FRcENneXRQdlBPMlNQUT09
RSVP if you can to CCJP at ccjp@bigpond.com