Blog Post
NSW introduces laws to revive Indigenous languages
Posted 12 Oct 2017 10:00AM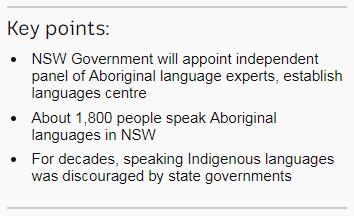 Hundreds gathered outside NSW Parliament in Sydney on Wednesday to usher in an historic piece of legislation — the Aboriginal Languages Bill.
As part of the new legislation, the State Government said it would appoint an independent panel of Aboriginal language experts and establish a new languages centre.
Dr Ray Kelly from the University of Newcastle, who sung and spoke his Dunghutti language in the Parliament, said it was an emotional day.
"[The bill's] genesis is 30 years, 40 years old, so people have been talking about the rights for language and the protection of Aboriginal languages," Dr Kelly said.
"And [this is] for all of those older people who are no longer walking the path with us."
READ MORE at: http://www.abc.net.au/news/2017-10-11/nsw-passes-unprecedented-laws-to-revive-indigenous-languages/9039746