Blog Post
Make Renting Fair campaign - needs our help
Posted 24 Aug 2017 11:00AM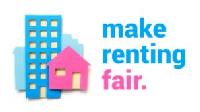 What does your home mean to you... comfort, security, shelter? Now ask yourself, how would you feel if you were told you had to leave and never told why?
For the 2 million+ renters in NSW our rental property is our home.
Currently if you rent your home in NSW you can be evicted without being given a reason. This means renters can – and do – get kicked out for things like asking for basic repairs or questioning a steep increase in the rent. Or simply because their landlord doesn't like them. It also means many renters live in fear of losing their home and just don't ask for their legislated rights like maintenance or repairs to be carried out.
When someone is evicted it hurts the whole community. Communities lose neighbours and friends. They lose workers, volunteers, community members – the local footie coach, the coordinator at the Council community garden, their kids' best friends.
When someone is evicted there is always a reason. We want to make sure it's a good one.
Join us in calling for a change to tenancy law so that when someone is evicted there is always a good reason… and a real opportunity to challenge the eviction when there is not.
It's time things changed. Let's make renting fair.
We're expecting renting laws to be debated in Parliament soon - possibly as early as mid-September - as the NSW Government looks to implement some of the recommendations from the review of the Residential Tenancies Act.

Now is a critical time to call, email or write to local MPs to find out where they stand on the issue of unfair evictions.

For ideas and info about starting a conversation with your local MP, check out the new 'campaign resources' page on the Make Renting Fair website - https://rentingfair.org.au/campaign-resources - and please do share those resources around if you can.
NSW Campaign contacts - Ned Crutcher of Tenants Union ned.crutcher@tenantsunion.org.au and Sarah Wilson of Shelter NSW sarah@shelternsw.org.au