Blog Post
Our Climate Future - key concerns and signs of hope
Posted 5 Aug 2017 12:00PM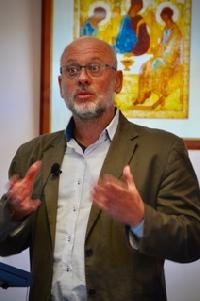 Professor Tim Flannery was a compelling speaker on Our Climate Future at the Sunday Seminar on 16 July 2017 and the transcript of his address and the question and answer discussion that followed can now be downloaded.
"Inspirational", "marvellous" and "full of hope" were some of the responses from the audience.
Professor Flannery started his talk with the latest data from climate science and the state of the global carbon budget. He showed how every ecosystem is being affected by climate change and for humans this is impacting on food production.
The rapid uptake of carbon negative technologies is an exciting area plus the technologies being explored to reduce and remove greenhouse emissions. Participants came away inspired by Tim's invitation to imagine a climate future that addresses the key determinants of human-induced climate change.
"The great mistake we all make I think is to imagine that we are somehow insulated from the world and we do this despite the fact that our very skin is porous and that our lungs are intimately engaged with every other thing in the world. We draw in the air that a few weeks ago might have been coming out of a factory smoke stack in China. We don't live in a vacuum. We are all part of an integrated ecosystem and a society and an illness in any part of the ecosystem or society will affect the whole eventually. That is the great lesson I think that we have to learn as well as just keeping our imaginations alive to the possibilities of the future." Professor Tim Flannery, AO (CCJP Seminar, 16 July 2017)
You can download the transcript of Professor Flannery's address and the question and answer session that followed HERE
Photos by Marie Butcher, RSM and Maureen Short (theshortcollection@bigpond.com) HERE