Blog Post
Our Languages Matter - NAIDOC Week 2017
Posted 30 Jun 2017 11:00AM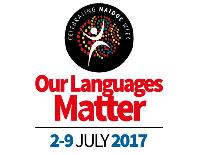 The 2017 NAIDOC Week theme - Our Languages Matter - aims to emphasise and celebrate the unique and essential role that Indigenous languages play in cultural identity, linking people to their land and water and in the transmission of Aboriginal and Torres Strait Islander history, spirituality and rites, through story and song.
Some 250 distinct Indigenous language groups covered the continent at first (significant) European contact in the late eighteenth century. Most of these languages would have had several dialects, so that the total number of named varieties would have run to many hundreds.
Aboriginal and Torres Strait languages are not just a means of communication, they express knowledge about everything: law, geography, history, family and human relationships, philosophy, religion, anatomy, childcare, health, caring for country, astronomy, biology and food.
Each language is associated with an area of land and has a deep spiritual significance and it is through their own languages, that Indigenous nations maintain their connection with their ancestors, land and law.
It is hoped that the theme will shine a spotlight on the programs and community groups working to preserve, revitalise or record Indigenous languages, and encourage all Australians to notice the use of Indigenous languages in their community.
"Nationally, many place names for our suburbs, rivers, mountains and parks are Indigenous language words. Noticing and paying attention to these words will generate greater appreciation and respect for the significance of language among all Australians.
Pastoral Letter from Australian Catholic Bishops: ttp://www.natsicc.org.au/assets/atsi_sunday_2017_web.pdf