Blog Post
Safety for ALL on Manus and Nauru
Posted 24 Nov 2017 12:00PM
The November 2017 issue of Just In Time from the Social Justice Committee of CLRI (NSW) highlights the urgent need for our voices to be raised to our PM and MPs to find safe and viable options for ALL people on Manus and Nauru.
The brutality of four years of offshore detention, brutalises us all and we must not become numb and look away.
The Just In Time also updates us on related issues of migrants, refugees and asylum seekers - Pope Francis' message for the Catholic Church's 104th World Day for Migrants and Refugees on 14 January 2018 and urgent housing stock needed by House of Welcome for people seeking asylum in Sydney on the verge of homelessness and needing wrap-around services including medical care. Download HERE
And an image to share this Christmas -
Cartoonist for The Sunday Age, Matt Golding, allowed his image 'An Australian Christmas Story' to used for the November 2017 issue of Just In Time and for readers to copy: "Happy for image to be shared. Just an acknowledgement along the lines of 'Matt Golding, The Sunday Age' would be fine."
Matt's image was featured in a Refugee Council of Australia exhibition curated by Eureka Street's cartoonist Fiona Katauskas in December 2015.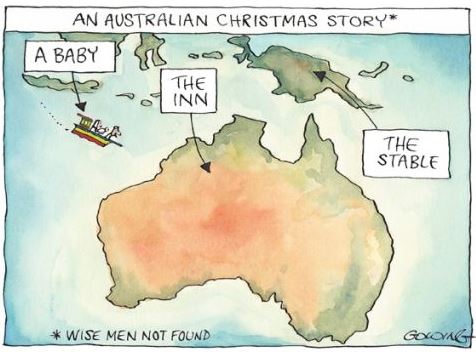 Image by Matt Golding, The Sunday Age